B2B
Egogo was designed from the start to be an engine of truth - a place where transparency is unleashed as an irreversible force for good.
Eqogo's Exclusive Pilot Program
Eqogo is looking for partner businesses to pilot our dynamic transparency engine to provide your company with product and brand-level insights. We showcase purpose-driven products to value-aligned businesses, their customers and procurement agents. At the same time, we strive to enable companies to get their best, most ethically-made goods discovered.
Product Assessment & Discovery
Let us help you grow your sustainability programs while also growing your customer trust and value-aligned product inventory. Our category review process can help you see new opportunities in new product acquisition by measuring where your current products stack up with others in their category, whether you stock them or not!
Why Choose Eqogo's Rating System?
We take the weighted and rated objective scores of products and provide you with an instant product comparison, allowing you and your customers to rapidly buy or procure values-aligned products. Our system allows you to filter for price, warranty, CERT data, materials, and even filter for our Good To Know, brand-level attributes on governance, origin, and brand initiatives.
We can help you use transparency to build trust - based on your values and parameters.
Brand Comparison Portal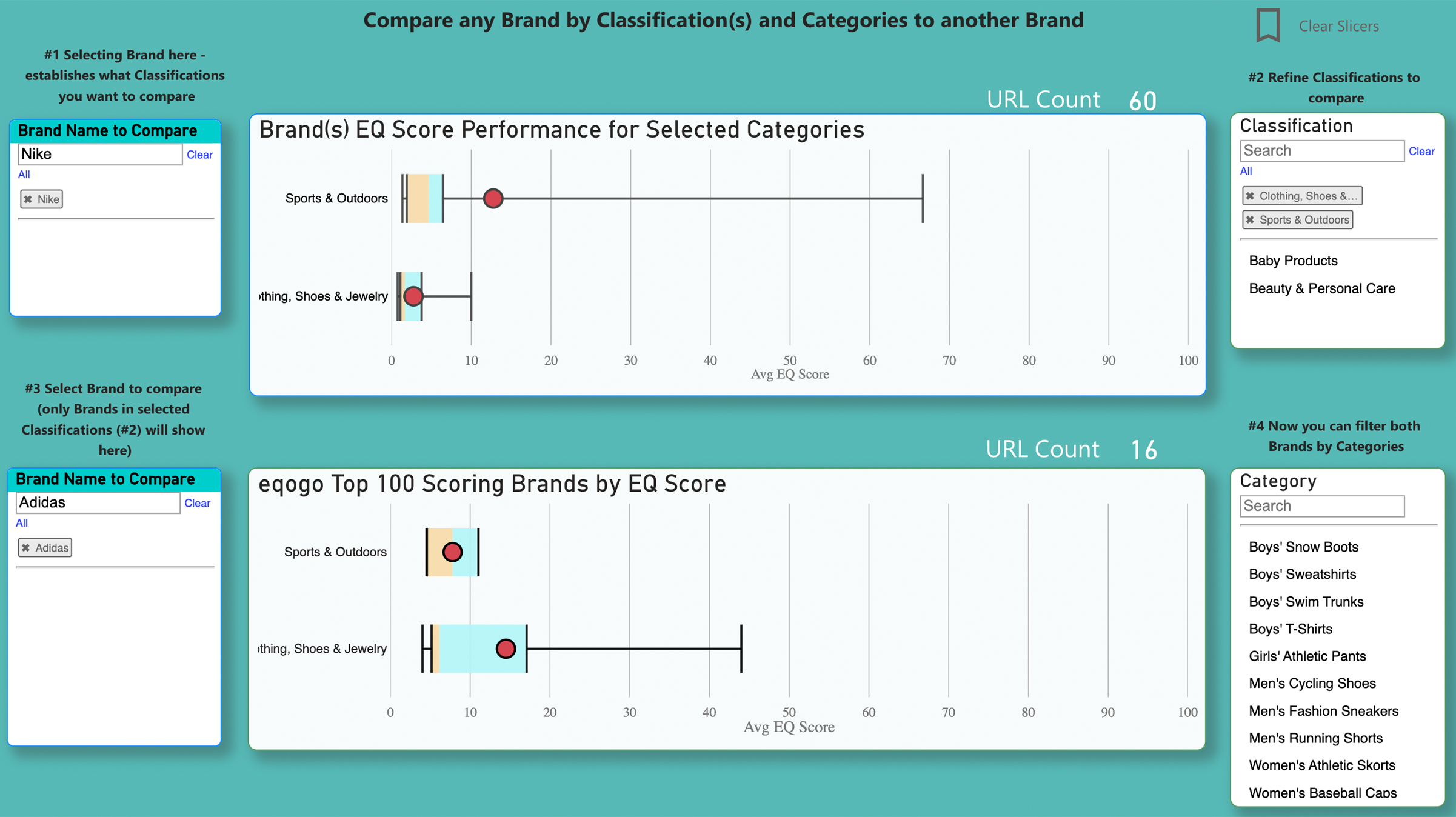 Good To Know "GTK" - brand-level attribute portal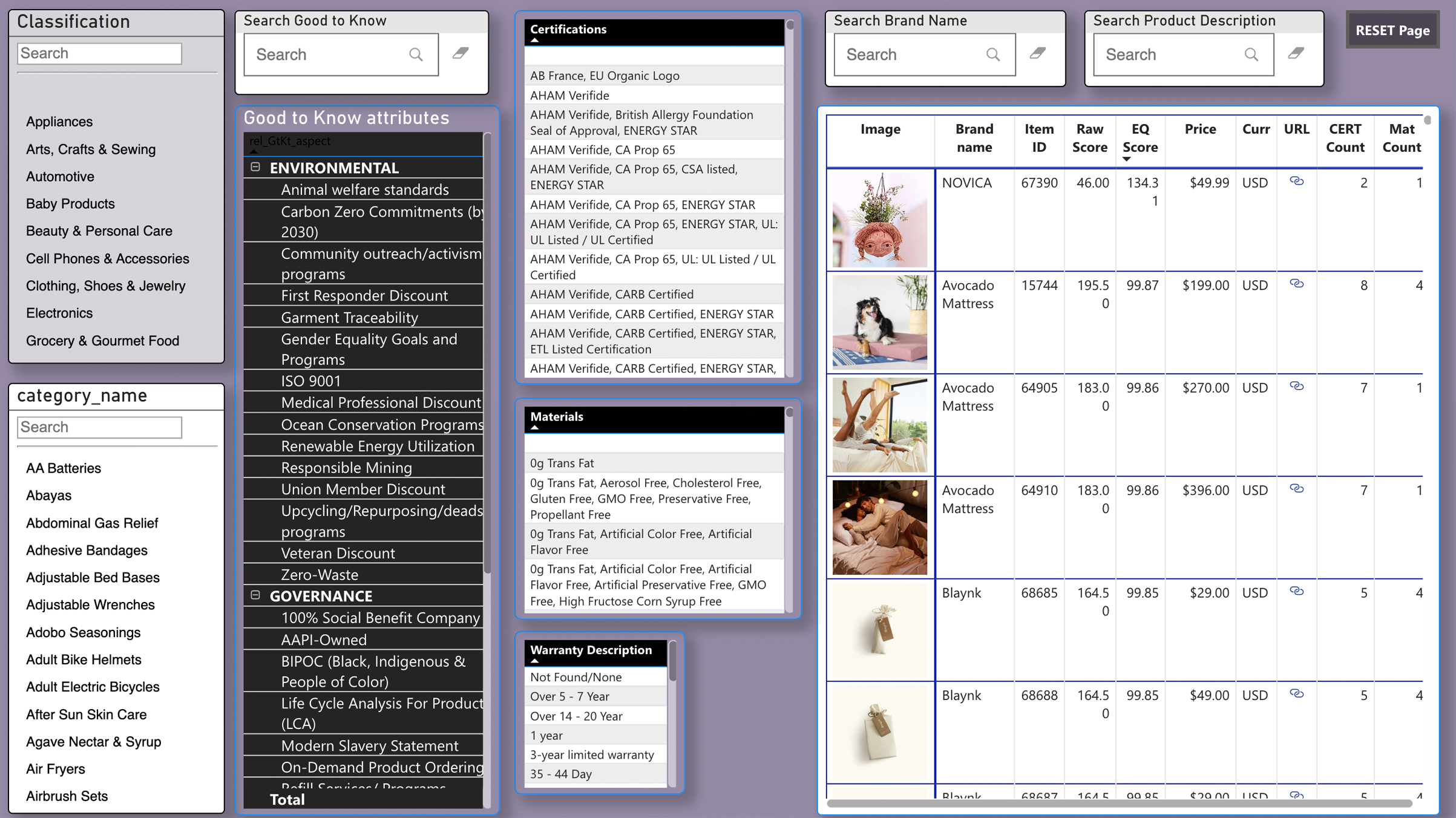 EQ Shopping Portal - values-based filtering engine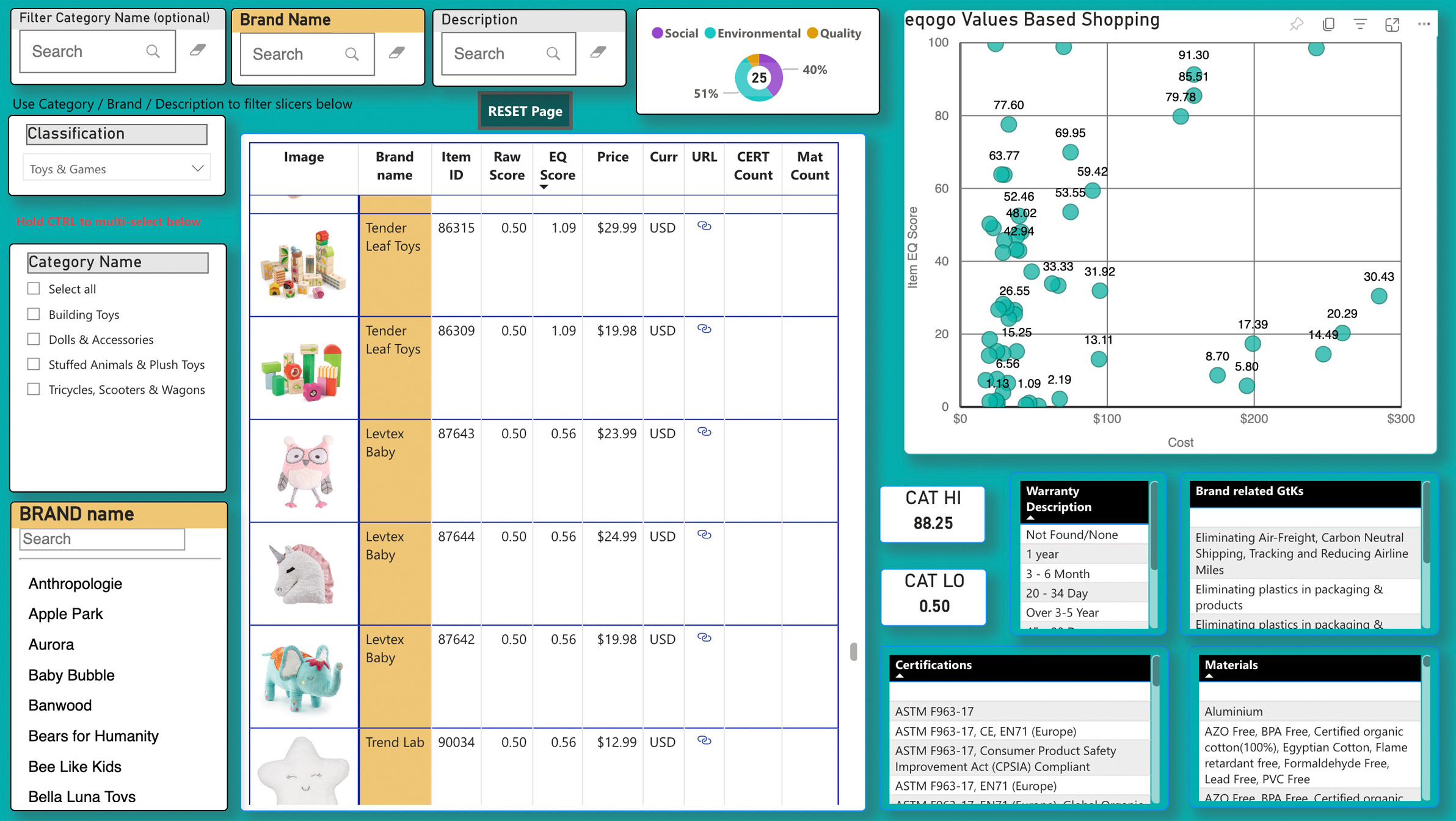 B2B
RETAILERS AND PRODUCT DISCOVERY PLATFORMS
Discovery - We help you identify the latest, most innovative products to enhance your marketplace, and help you reduce your in-house labor while accomplishing this research!
Customer Retention - Bolster your customer's brand loyalty with additional insights into their favorite products.
Sales Growth - Increase sales by enhancing the confidence your customers have in the products you carry.
PURCHASING AGENTS AND PROCUREMENT
Partnerships - We help you discover the brands and products that align with your values and sustainability goals.
Key Performance Indicator Impact - We help you measurably add value-based products to your inventory while reducing the labor required for research.
Non-Toxic or Other Critical Attribute Aggregation - We simplify the identification of toxins, required certifications and other key attribute considerations.
BRANDS AND MANUFACTURERS
Outreach - We connect you to the expanding mindful marketplace by telling the story of your best practices.

Comparison - See how your products stack up against the competition.

Build Trust - Show customers your commitment to transparency by sharing your current product data so we can feature you and your best practices. By linking you to the conscious consumer marketplace you will be aligning yourself with the future super-fans of your brand!

INQUIRE NOW - for more details of our pilot program

`
Get Powered by Eqogo!
We're built to help make informed purchasing easy.