Roam Free
Bison Bites Thai Chili Ginger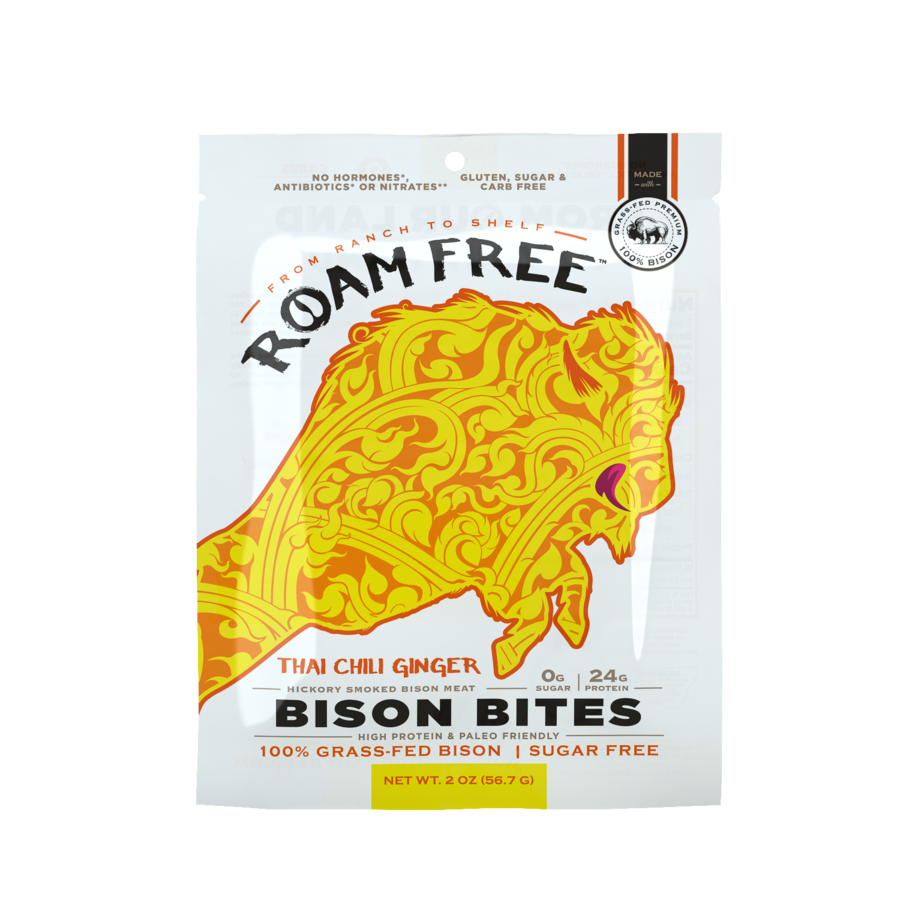 Description
East meets West with this unique combination of tender bison and exotic spices. Simple Ingredients: 100% grass-fed bison, coconut aminos, chili garlic, sea salt, celery juice powder, organic ground pepper, organic cardamom, organic apple cider vinegar, organic fennel, organic ginger, organic clove, organic coriander, organic cinnamon, lime juice powder, organic anise extract, organic basil
Notable attributes
Organic Basil

Organic Basil. (ocimum basilicum) A staple in Southern European food, basil is one of the most widely used herbs in the world. It adds a delicately sweet flavor and warm aroma to savory dishes, and naturally combines with garlic, capers and tomatoes.

100% Grass Fed Bison

Bison meat

Chili Garlic

Organic Ginger

Ginger is a flowering plant whose rhizome, ginger root or ginger, is widely used as a spice and a folk medicine. It is a herbaceous perennial which grows annual pseudostems about a meter tall bearing narrow leaf blades.

Organic Ground Pepper

Organic Cardamom

Cardamom is a spice made from the seed pods of various plants in the ginger family. Cardamom pods are spindle-shaped and have a triangular cross-section. The pods contain a number of seeds, but the entire cardamom pod can be used whole or ground.

Organic Clove

Cloves are the aromatic flower buds of a tree in the family Myrtaceae, Syzygium aromaticum. They are native to the Maluku Islands in Indonesia, and are commonly used as a spice. Cloves are available throughout the year due to different harvest seasons in different countries.

Organic Cinnamon

Cinnamon is a spice obtained from the inner bark of several tree species from the genus Cinnamomum. Cinnamon is used mainly as an aromatic condiment and flavouring additive in a wide variety of cuisines, sweet and savoury dishes, breakfast cereals, snackfoods, tea and traditional foods.

Organic Coriander

Coriander, also known as cilantro, is an aromatic Mediterranean plant of the parsley family, the leaves and seeds of which are used as culinary herbs. Coriander is an annual herb in the family Apiaceae. It is also known as Chinese parsley, and the stems and leaves are usually called cilantro in North America. All parts of the plant are edible.

Sea Salt

Sea salt is salt that is produced by the evaporation of seawater.[1] It is used as a seasoning in foods, cooking, cosmetics and for preserving food.

Organic Anise Extract

Anise Extract has a strong, slightly sweet licorice flavor due to the presence of an aromatic compound known as anethole, which is also found in fennel, tarragon and licorice itself. Anise extract is popular in baked goods from around the world, and is also sometimes used to flavor liquor and herbal liqueurs.

Coconut Aminos

Organic Apple Cider Vinegar

Vinegar made from fermented apple juice is used in salad dressings, marinades, vinaigrettes, food preservatives, and chutneys. ... In a second fermentation step, the alcohol is converted into vinegar by acetic acid-forming bacteria.

Celery Juice Powder

Celery powder is a dried, ground concentrate prepared from fresh celery that is used as a seasoning and as a food preservative in organic meat products. Several commercial preparations exist, and it can also be made using a food dehydrator. Some celery powders are prepared from celery juice.

Lime Juice Powder

Lime Juice Powder, made with lime juice solids, provides a simple way to add a consistent lime juice flavor to recipes without the need for the whole fruit. In addition to its many health benefits, lime juice powder is a great substitute for lime juice in many recipes.

Organic Fennel

Fennel has a warm, anise-licorice aroma and the flavor is slightly sweet with a camphorous undertone. Fennel is a bit more astringent than anise and less pungent than dill seed.
Roam Free
We're a small ranch with big dreams. Our mission is to preserve bison and repair our #1 most endangered ecosystem - native grasslands. So we quit our corporate jobs and started a regenerative bison ranch.